Party Suites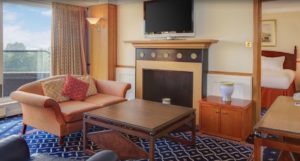 Party suites are available for hire throughout the main convention days. Hosted in a traditional style King Suite, the rooms are capable of accommodating a maximum of 25 people at any one time.
The room is ideal for those wishing to host a social gathering for the evening, and keep the party going until the early hours of the morning. They offer a separate bedroom and living room, with dining table, comfy chairs and sofa.
The bed is a spacious King Size, and the bathroom includes a walk in shower.
Price: £240 per night
Room Type: King Suite
Sleeps two persons in 1 king double bed
Max. capacity: 25
NEW!

Party Suite Lottery

Due to overwhelming demand for the limited number of party suites available, in 2020 party suites will be allocated by a random draw.

In order to be eligible to enter the lottery, you must be a fully registered and paid residential guest with ConFuzzled at either the Hilton or Crowne Plaza hotels.

Lottery applications are now closed for 2020. If you entered, check your email for updates.
Availability
Attendees can apply for as many or as few dates as they choose, in preference order. However, winners can only be awarded 1 suite.
If your party suite application is successful, payment needs to be received within 2 weeks or the room holding will be randomly allocated to another lottery entrant.
Party suites are available on the following days:
Thursday 21st May
Friday 22nd May
Saturday 23rd May
Sunday 24th May
Monday 25th May
Terms and Conditions
The rooms are subject to the same Hilton Terms and Conditions, and ConFuzzled Code of Conduct and Conditions of Sale.
ConFuzzled and Hilton wish for you to enjoy your space and privacy, and you are politely requested to be mindful of the noise levels so as not to disturb other convention guests and hotel residents.