Charity
We're not quite ready to reveal details of 2020's chosen charity, but read on to learn more about how ConFuzzled has helped charities in previous years.
ConFuzzled 2019: Gentleshaw Wildlife Centre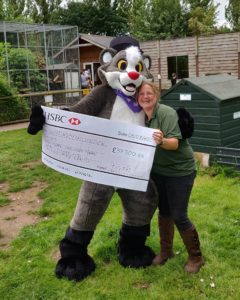 In 2019 we raised our biggest charity total ever for the Gentleshaw Wildlife Centre, an unbelievable £33,300.69!
Gentleshaw Wildlife centre is a small sanctuary for exotic animals and birds of prey. As well as a hospital unit for the treatment of wild raptors, the centre is home to over 30 different species of Bird of prey, Primate, Reptile, Invertebrate, Raccoons, Cats and many more. Their mission statement is to provide, at all times, the best care and welfare for the birds and animals that they take in, with their health and safety being of the upmost importance. Their aim is always to give safe and caring homes to animals which have nowhere else to go, and to provide them with a much better quality of life than they had before coming to the centre.
We checked in with Jenny Morgan, Director at the centre to see how much of a difference the money has made;
"Whilst the humans are all still trying to get their heads around the massive amount the ConFuzzled attendees raised, the residents of Gentleshaw are reaping the benefits. Materials for enclosures have been purchased, and plans made for new builds, including a ConFuzzled sponsored raccoon enclosure. A new set of reptile vivariums has been purchased and kitted out to keep our furless residents comfortable. We have purchased a new house for Cilia & Lennox the pigs, and a new outdoor den for Saxon the wolfdog. Smaller purchases have included cleaning equipment, toys for the animals and treats. In September we will have new, purpose built homes for our skunks and kookaburras, all thanks to you guys." ~Jenny Morgan
To learn more about Gentleshaw Wildlife Centre, visit their website at gentleshawwildlife.co.uk
Previous Years
In previous years, we've been fortunate enough to work with some amazing charities, and have raised a grand total of £169,198.51, all thanks to the incredible generosity of our attendees!
| | |
| --- | --- |
| Charity | Amount Raised |
| 2008: The Badger Trust | £1,600 |
| 2009: The Badger Trust and The Manchester Dogs Home | £2,000 |
| 2010: Wildlife Heritage Foundation | £6,200 |
| 2011: International Otter Survival Fund | £10,000 |
| 2012: Nuneaton and Warwickshire Wildlife Sanctuary | £7,700 |
| 2013: STA Ferret Rescue | £11,484 |
| 2014: The Cat Survival Trust | £14,265 |
| 2015: Fat Fluffs Rabbit Rescue | £13,552 |
| 2016: Prickles Hedgehog Rescue | £21,946 |
| 2017: The Badger Trust | £21,113 |
| 2018: Vale Wildlife Hospital | £26,037 |
| 2019: Gentleshaw Wildlife Centre | £33,300 |
Suggest a Charity
If you have a UK based animal charity that you would like to see us support at a future ConFuzzled, feel free to drop us an email at charity@confuzzled.org.uk